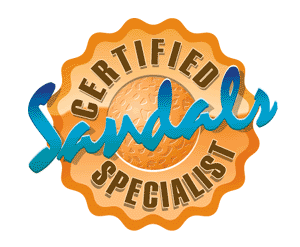 Sandals Montego Bay



This is the place where the world first fell in love with Sandals - and it's easy to see why. Because the original Sandals still has the clearest waters anyone has ever seen, as well as the largest private white-sand beach in all of Jamaica. And a fun loving staff can help make every couple as lazy as the sun and as free as the sea - and the only rule to follow is to do whatever you please. As often as you want.


Sandals Royal Caribbean Resort & Offshore Island

In a class by itself, Sandals Royal Caribbean is renowned throughout the Caribbean for its refinements and British traditions of a bygone era such as high tea and continental breakfast in bed. And just offshore, Sandals' own exotic private island features a pool with a swim-up bar, a secluded private beach and an authentic Thai restaurant where some of the dishes are rumored to be aphrodisiacs. You'll be treated to legendary "Royal Touch Service" at 4 gourmet restaurants and 5 bars while enjoying full exchange privileges at the neighboring Sandals Montego Bay and Sandals Inn, thus giving you a choice of 11 world-class dining experiences.

Sandals Grande Ocho Rios Beach & Villa Resort

Considered the true Garden of Eden, every modern-day Adam and Eve can indulge in a variety of temptations without paying the price. Reminiscent of a quaint Mediterranean village, Sandals Grande Ocho Rios Beach & Villa Resort is nestled between the lush St. Ann mountains and the Caribbean Sea. You'll discover a veritable Eden of your own, where the air is fragrant with jasmine and the tropical gardens are overflowing. This is a private sanctuary that's not only enchanting but breathtakingly beautiful.
Sandals Dunn's River Resort & Spa

Inspired by the great Italian Renaissance period...and named after the world-famous waterfall located minutes away...this breathtaking resort combines Mediterranean elegance with Jamaican charm, creating Caribbean luxury on a grand scale. From a stunning lobby with soaring columns and winding staircase reminiscent of an Italian palazzo...to the rippling waters of Jamaica's largest freshwater pool, highlighted by a cascading waterfall that mirrors the image of its famous namesake.
Sandals Negril Beach Resort & Spa

Amidst a pristine tropical setting, this world-class beachfront resort combines the laid-back atmosphere with refined elegance. Spanning the longest and best stretch of Jamaica's famous seven-mile beach, this is the only hotel in Negril to have won the coveted Green Globe Award, emblematic of its environmentally friendly ambiance. Where even the architecture has been designed to be lower than the highest palm trees. At Sandals Negril, kicking back and doing nothing is considered a native art form...and doing everything is "no problem." Discover why Sandals Negril is perfect...for an ocean of reasons.
Sandals Grande St. Lucian Spa & Beach Resort

On an island so "simply beautiful" the French and British fought over it for over 150 years, lies a Five Diamond resort considered the Caribbean's grandest new addition. Set on its own spectacular peninsula surrounded by the sea on both sides, the resort offers breathtaking vistas of the bay and the mountains on one side and the island of Martinique's distant shores on the other. Sandals Grande St. Lucian Spa and Beach Resort, where the views will steal your soul and the staff will steal your heart.